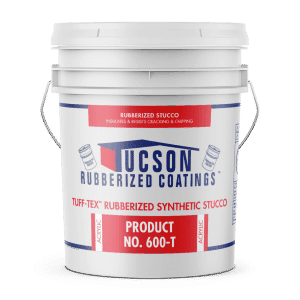 What Is Synthetic Stucco?
Do you want to protect your home's walls from chipping, cracking, and other problems? If so, you might want to consider applying a synthetic stucco coating. Having a stucco coating will help to protect your home from water damage, mold and mildew growth, unsightly staining, and other common issues. If you would like to refresh the look of an older wall, then a stucco coating can be an effective option for you.
Even the most solid walls can still be vulnerable to damage. No matter how strong a wall is, moisture, staining, and chipping can still have an impact on it. This presents an issue if you want to take good care of your property. If you have an interior or exterior wall that you want to preserve, then you may want to use a protective wall coating. Whether you are looking to prevent or repair damage to a wall, Tucson Rubberized Coatings can provide you with affordable wall coatings. We are here to present you with a wide range of options. Would you like to learn more about the products we offer? If so, call us today!
What Are Wall Coatings?
Wall coatings are layers applied to a building's interior or exterior walls to enhance their beauty and to protect them from external elements. The coating products are viscous enough to avoid running. They offer protection against scratches and abrasion. Some wall coatings are known to provide excellent adhesion properties. Wall coatings are applied on walls of homes and commercial places like warehouses, chemical plants, offices, manufacturing facilities, etc.
The wall coating system for the walls of bathrooms, kitchens, and exteriors needs to be water/moisture resistant. Some coatings have coarser particles, and these coatings are designed to offer a textured, anti-slip surface to the walls.
How Wall Coatings Can Help
Having a wall coating can help you in a number of ways. It will keep your surface in good condition, helping to prevent water damage. A coating can also help to extend the life of your wall and cut down on the number of repairs you need to make. When it comes to exterior walls, coatings can help to protect them from damage caused by exposure to the elements. Some coatings can even help to insulate your building. In addition, a well-made wall coating can help the appearance of your wall and boost your building's curb appeal. By giving your wall a smooth and attractive surface, a wall coating can provide you with a lot of lasting value.
Tuff-Tex Rubberized Synthetic Stucco
Are you looking for long-lasting protection for your walls? Tuff-Tex Rubberized Synthetic Stucco from Tucson Rubberized Coatings could be a good option for you. This rubberized stucco will create a protective shield for your surface that will not chip, crack, or sustain damage easily. You can use the stucco to finish an interior wall, finish an exterior wall, or repair a damaged wall.
You can use our synthetic stucco on a wide range of wall surfaces, such as brick, metal, plywood, masonry, and wood siding. Also, you can use it over your existing stucco. We design our synthetic stucco not only to adhere firmly to the surface, but also to insulate it. In addition, you can easily paint over the surface of the stucco. You may even opt to tint the coating to avoid the hassle of painting it afterward!
Wall Coating Products Offer Protection and Enhance Appearance
Exterior wall coatings help to keep the walls looking beautiful and dry. The coatings need to be able to protect the walls against external elements like sun, wind, rain, etc. The wall coatings portfolio from Tucson Rubberized Coatings includes smooth, textured, acrylic, or elastomeric coatings that will help enhance the beauty of the walls and strengthen them.
Contact Tucson Rubberized Coatings
If you're looking for a wide selection of great products at affordable prices, it's time to get in touch with Tucson Rubberized Coatings. We take pride in offering state-of-the-art roofing materials and wall coatings at our three locations in Tucson. Our goal is to make sure that every customer is 100 percent satisfied with our products. Would you like to learn more? Call us today at 866-441-8203 with your questions.